Coverage Map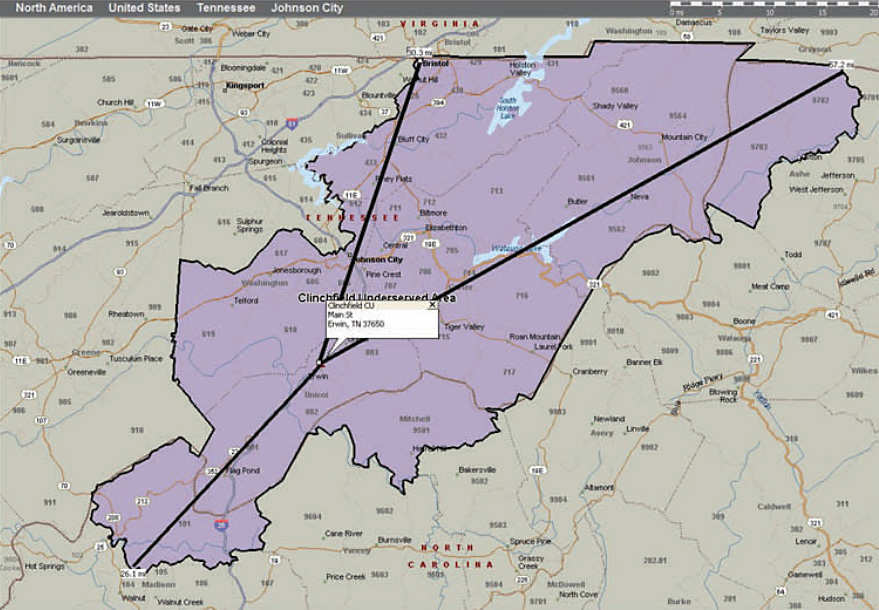 *Census Tract specific information available upon request from CFCU
Who Can Join Clinchfield FCU?
You live, work, worship, attend school, or operate a business in ALL OF UNICOI COUNTY, parts of Washington County, Sullivan County, Carter County, Johnson County, and parts of Madison and Mitchell Counties in North Carolina.

You are a family member (spouse, child, sibling, parent, grandparent, or grandchild) of a CFCU member.

You are employed by or retired from one of our Select Employee Groups. See company listing below.
AB & T
Allied Universal
Associated Control & Supply
Blue Linx (formerly Georgia Pacific)
Brackins Machine Shop
BWXT (formerly NFS)
Center on Aging and Health
Clinchfield Senior Adult Center
CSX Transportation
Dreicor
Duncan Mechanical
DuraLine
Energy Solutions
Erwin Health Care
Erwin Housing Authority
Erwin National Fish Hatchery
Erwin Paint and Body
Erwin Utilities
Heritage Insurance
Hobby Town USA
Horton Sports Plus
Impact Plastics/Preston Tool
Jet Broadcasting
Mountain Inns & Suites
Re/Max Realty
Roller Pharmacy
Sims Hardwood Flooring
Specialty Tires
Tennessee Abrasives
The Erwin Record
TN Tennessee (formerly NN, Inc.)
Town of Erwin
Tysinger, Hampton & Partners
Unicoi County Board of Education
Unicoi County Chamber of Commerce
Unicoi County Courthouse
Unicoi County Gas Utility District
Unicoi County Health Department
Unicoi County Highway Department
Unicoi County Memorial Hospital
Unicoi County Sheriffs Department
Unicoi Hospital for Animals
United States Postal Service
Unicoi Water Utility District